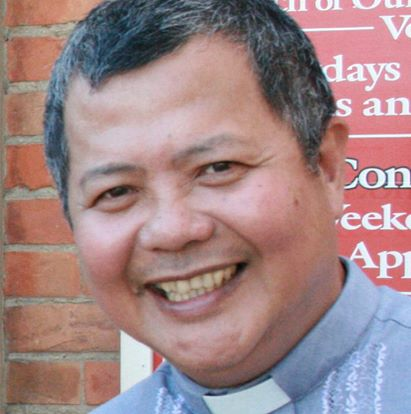 Message from Fr. Claro
Sunday 28th November
1st SUNDAY OF ADVENT (C)
BISHOP PHILIP on ADVENT. Let us listen to the bishop's video.
https://www.youtube.com/watch?v=Uhg3_LSUV74
What is an antiphon in the Catholic Mass?
Antiphon, in Roman Catholic liturgical music, chant melody and text sung before and after a psalm verse, originally by alternating choirs (antiphonal singing). … The two choirs both sang the psalm text or, alternatively, one choir sang a short refrain between the psalm verses (V) sung by the other choir.
What are the 7 antiphons?
Collectively they also suggest Christ's response to that plea: the seven titles in Latin—Sapientia, Adonai, Radix Jesse, Clavis David, Oriens, Rex Gentium, and Emmanuel—in reverse order form an acrostic ERO CRAS which means "I am coming soon."
ADVENT/CHRISTMAS LITURGY
At 9.30am this Sunday is a general meeting of those in the Liturgical Committee. We will see the overview of the Advent and Christmas Liturgy. We thank Sjoerd Vogt for giving us the list of the music for December. The Music and Readers group and those responsible for the altar are supposed to be the LITURGICAL COMMITTEE. They fulfil in a special way their baptismal anointment as Priests. We are a priestly people. We all participate in the Liturgy, not just the ordained priest.
MASS TODAY
Introduction to the Readings by Fr. Greg Friedman
https://bible.usccb.org/podcasts/video/2021-11-28-reflection-3
Fr. Steve Bellamy will give his homily on Advent at our Sunday Mass
PARISH REORGANISATION WITH NEW PARISHIONERS
As we are reorganising our parish ministries, we also need to have an on- going training/formation of different ministries. The Diocese offers training and workshops not only for pastoral workers but also those in the Finance/Maintenance/Health and Safety/Safeguarding/Data Protection etc. We will wait for the new Diocesan Website which would be helpful for the training. The SOP of Standard Operating Procedures of the Diocese are also spelt out here. We need to protect ourselves and our parish and our community as we learn more good practice of running our institution.
Workshops for Parish Readers
I invite those who would like to continue as Readers and the new volunteer Readers to do the Diocesan Certificate of Church Readers.  Sr Hyacinthe OP, Leader of our Formation for Mission Team shares news of two workshops to equip parish readers which will be offered on Saturdays of the 4th and 11th December, from 10am to 1pm.
The first workshop covers an introduction to the Liturgy of the Church, with a specific focus on the Liturgy of the Word, as well as the Reading Skills necessary for parish readers. The second workshop offers a general introduction to the Bible as well as a set of keys to understand any biblical texts. Both workshops are led by a diocesan team: Deacon Martin McElroy from Winchester, Claire Tickell from Southampton and Sr Hyacinthe from the Lymington Dominican Sisters.
Both workshops involve small group discussions. To complete the training, awarded with a diocesan Recognitio, a reading practice with a diocesan listener is required. The details for arranging for the 1:1 15 minutes practice are given during the workshops. Please advertise the workshops in your parish, for new and seasoned readers, especially now as we're getting back to church. Find out more and register here for the workshops. https://www.pffm.org.uk/readers
We will commission and recommission the Readers in January 2022.
_____
Bereavement Support Workshop in PANDEMIC TIMES  every Wednesday at 10am at the Parish Hall. Invite others to come and join us. We have a line-up of great speakers on this topic.
Don't Miss this opportunity. Email me cconde@portsmouthdiocese.org.uk or message me
Our topic this coming Wednesday is the POEM – DEATH BE NOT PROUD by John Donne. We will have capacitar exercise, then tea & coffee and chit chat.
Fr. Claro Conde, facilitator
EVENTS
Christian worship in the Market Place with Carol Singing in Faringdon Market Place, every Saturday Morning in December from 11-11.30 – everyone of all ages most welcome. Starting Saturday 4th December. Lyn Williamson
SEE ADVERT FOR THE CAFOD Cake Sale and Christmas Quiz.
BEREAVEMENT SUPPORT MEETING 10am Every Wednesday