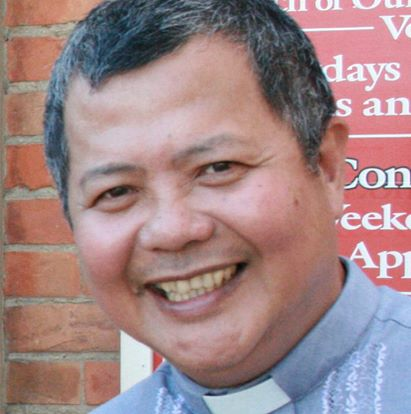 Message from Fr. Claro
Sunday 15th May 2022
Fifth Sunday of Easter

UKRAINIANS IN FARINGDON
We welcome the 1st batch of Ukrainian Refugees to our Faringdon hosts. A mother and daughter are staying with the family home of David & Lyn Davidson.
CONFIRMATION
Meetings 9am Sundays of 8/5/22, 5/6/22, 19/6/22.
FHC meeting after 10am Mass 8/5/22, 15/8/22
Confirmation Cell Prayer Meeting at Helena Boakye next Friday (every other Friday). We have Bible Reading and Study.
VILLAGE MINISTRIES
COME AND JOIN US FOR TEA & COFFEE and Meet New Friends in the Villages
FARINGDON. Every Market Tuesdays 10am, PUMP HOUSE PROJECT on 22 Swan Ln, Faringdon SN7 7AF.
HINTON WALDRIST. Visit and shop at W G Gibbens & Sons Laggots Farm, High Street, Hinton Waldrist, Southmoor SN7 8RN, Get a chance to see the sheep on the farms.
BUCKLAND VILLAGE. 3rd Wednesday Lunch 12.30, 2nd Friday for Tea & Coffee at the Memorial Hall, Buckland on Summerside Road SN7 8RB.
KINGSTON BAGPUIZE with SOUTHMOOR.  Every Thursdays 9.30 to 12noon Breakfast, Cakes & Coffee Meeting at Village Hall Draycott Road, Southmoor, Oxon, OX13 5HX.
FOR THE SICK: PAMELA, sister of Loraine Brabin who had a stroke last Monday.
EVENTS & MEETINGS
MAY
19 May Thursday 8:15pm Parish Pastoral Council PPC Meeting. We are looking for more members of the Parish Pastoral Council – more new faces. We meet once a month.
26 May Thursday 6pm Mass Feast of the Ascension
28 May 5pm Procession of the Blessed Lady & Santa Cruzan followed by Mass at 6pm c/o Filipino & African Communities
31 May TUESDAY 10am Mass Feast of the Visitation of the Blessed Virgin Mary
JUNE
5 June Feast of the PENTECOST
At the Bishops' Conference in Cardiff last week, the Bishops voted unanimously to reinstate the obligation on Catholics to attend Mass on Sundays and Holy Days. This will take effect on Pentecost Sunday.
FIRST HOLY COMMUNION 10am Mass 12 June Sunday
CONFIRMATION DAY with Bishop Philip Egan at the English Martyrs Church in DIDCOT, OX11 7AJ at 7pm on FRIDAY 24 JUNE 2022
JULY
Folly Fest open air churches together service at 10.30am Sunday 10 July 2022 (We start our Mass at 9.45am and Join Service with other Christians in the town).
Rural Mission Sunday 2022 is on 17 July, SATURDAY VIGIL SERVICE and Talk on Village Mission 16 July, (Possibly at St. George's a former Catholic Church) Preacher is Canon Jim Mynors who specialises in Rural Ministry.
Are you being called to the Permanent Diaconate?
Fr Dominic Adeiza, Diocesan Director of the Permanent Diaconate invites you to consider if you are being called to the Permanent Diaconate…
Have you ever wondered what it's all about but something has held you back from finding out more about it? Is there a little voice in your head, that can't be silenced? If that's YOU, why not 'Come & See' for yourself without committing to anything further?
We'll be holding an information event on Saturday 11th June at St Bede's church, Basingstoke from 9am – 2pm where you'll get to hear first hand, from those who are involved and what it's been like for them. You've got nothing to lose!
If you'd like to attend, please call Pam on 07883 059529 to book a space and to help with catering requirements. If you can't make it on the day, but would like to know more, please contact Pam or email diaconate@portsmouthdiocese.org.uk
VATICAN NEWS
Cardinal Joseph Zen was detained in Hong Kong on Wednesday by the police force set up to oversee national security, and charged with "collusion with foreign forces" in connection with his role as administrator of the 612 Humanitarian Relief Fund.
Holy Jokes
A man was really struggling so he decides to open a Bible to a random page and drop his finger on a verse and do whatever it says.
The verse his finger landed on was Matthew 27:5 "then Judas hanged himself".
The man thought "that's not right, let me try again" and does the same thing, this time landing on Luke 10:37 "Jesus told him 'go and do likewise'".
Again the man thought it wasn't right and so he did it one last time and landed on John 13:37 "Whatever you are about to do, do it quickly".