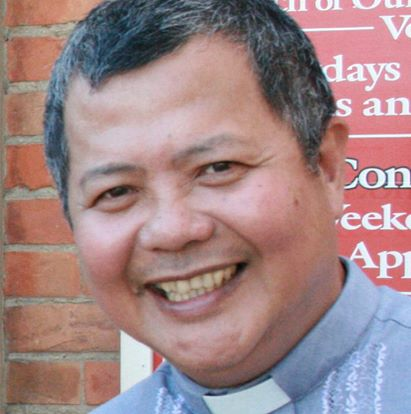 Message from Fr. Claro
Sunday 23rd January 2022
Third Sunday in Ordinary Time
BIBLICAL REFLECTIONS
We listen to Fr. Greg Friedman OFM on biblical commentary of the Readings.
https://bible.usccb.org/podcasts/video/2022-01-23-reflection-69
The beginning of the Gospel comes from Luke 1, and the evangelist shares that he is using source materials and weaving together traditions to offer an account of the "events that have been fulfilled among us." The second part of today's Gospel is from Luke 4, and it describes Jesus praying and reflecting on prophetic traditions.
CONFIRMATION Class 2
https://www.youtube.com/watch?v=Qt32SyDWuW8
Today, we continue to train young people especially those confirmation candidates to the ministry of the Altars as Servers and Readers. They fulfil their baptismal role in which they share the priesthood of Christ and the People of God. We are all given the gifts of the Holy Spirit to fulfil this mission.
We will ask the different ministry in the parish to share their role. We will later ask the Justice and Peace ministry to share with us how they fulfil the prophetic mission Jesus has called us. The Gospel today summarises the prophetic mission of Christ.
In whatever activities we do, let us always keep in mind always our parish missions and objectives which is found in our parish website.  (click here)
Blessed Hugh Parish Mission Statements
To go out and Mission to Everyone;
Support and Strengthen the Community;
Prayerful and Committed to the Faith;
Outreach to ethnic minorities;
Outreach to key workers;
To Nurture the young people and youth of our parish to ensure they feel valued members of
our community
FINANCE/MAINTENANCE
Joint committee and PPC committee Minutes of Meetings are found in the Parish Website (here).
VILLAGE MINISTRIES
I still getting to know people in different Villages. I will be asking individuals to join this very important ministry and to represent their villages. Canon Jim sent me this note.  Session on churches & the rural context: I'm free most days but not March 14 & 17 and I'm away March 25-April 1 and away April 8 & 25, What do you suggest? I don't mind where. All good wishes, Canon Jim Mynors
MINISTRY FOR THE SICK
Dear Father Claro, I have spoken to a few people about the proposed special Mass for the Sick on 13th February and they are very enthusiastic. Am I right in saying that as part of the prayers you would anoint all the people who are sick and unable to get to Mass on a regular basis? If you are going ahead with this I think we need to advertise as soon as possible, because these people need lots of time to organise themselves.
Certainly, something in the newsletter ASAP and possibly an announcement after Mass on Sunday.
Transport needs to be arranged for these people, volunteers will be needed The list of people who should be contacted Maria Pugh, Jinnie Brown, Margarita Morgan, Helen Clear, Theresa Malvilli.  I would be happy to contact these people for you, I have already spoken to Margarita and Jinnie and they think it's a wonderful idea. Best Wishes, Mary Hughes.
Rite of Election 2022
The Rite of Election for 2022 is at 11am on Saturday 5th March in the Cathedral. See the link is here: https://docs.google.com/forms/d/e/1FAIpQLSd5mqb5iPQ8QurAhgmrvmBYbI3l4g6gN08S0OfEEiDyx1Xx8w/viewform
PRAYERS FOR THE DEAD
Mairead Boyce, RIP, died 12 January 2022.
Kieran Brady, RIP (husband of Sue), died 12 January 2022.
EVENTS & MEETINGS
JANUARY 2022
Bereavement/Wednesday Meeting resumes 10am 12 January 2022
BIBLE ZOOM MEETING resumes 8pm Monday 17 January 2022
OCTAVE of PRAYER for CHRISTIAN UNITY January 18 – 25
FEAST OF THE CONVERSION OF ST PAUL, 25 January TUESDAY
FEBRUARY 2022
PRESENTATION OF THE LORD, Wednesday 2 February
WORLD SUNDAY FOR THE SICK 13 February
Wednesday Group RETREAT at the Carmelites Boars hill 23 February
MARCH
ASH WEDNESDAY 2 March
ST PATRICK, 17 March Thursday – Can we have something Irish on St. Patrick's Feast
ST JOSEPH, 19 March Saturday
ANNUNCIATION of the LORD, 25 March Friday
APRIL
PALM SUNDAY 10 April
EASTER VIGIL 16 April Saturday
EASTER SUNDAY 17 April