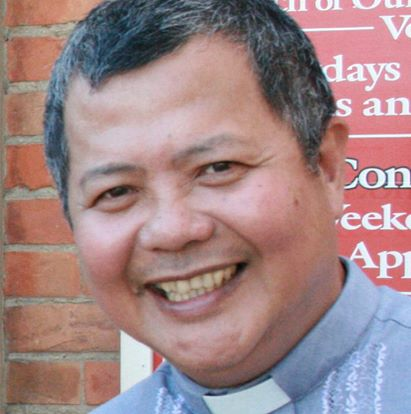 Message from Fr. Claro
Sunday 11th April
SECOND SUNDAY OF EASTER (B)
Reflections
"Help me, O Lord, that my eyes may be merciful, so that I may never suspect or judge from appearances, but look for what is beautiful in my neighbors' souls and come to their rescue" (Diary, No. 163). This is an excerpt from St. Faustina's "Prayer to be Merciful." Today is Divine Mercy Sunday, a day that reminds us to pray for God's compassion and forgiveness and to afford the same to one another. The first reading offers an early Christian perspective on mercy and compassion that can inspire us today. The second reading and the Gospel remind us of the power of the Holy Spirit to help propel the church forward.
The first reading, from Acts, describes early Christians living cooperatively, sharing money and possessions with members of the community. "There was no needy person among them, for those who owned property or houses would sell them, bring the proceeds of the sale, and put them at the feet of the apostles, and they were distributed to each according to need." Luke's vision of the early church reflects an intense level of cooperation, a kind of egalitarian society that eliminates poverty. The early Christians take care of one another financially, showing mercy and sharing wealth so that no one is impoverished. Many people today might think that it would be difficult if not impossible to replicate this biblical model, particularly in capitalist societies. However, the principle of the reading is powerful and should inform how we think about wealth accumulation, economic justice and governance today.
As a Parish Community, how we live this ideal of life of the Early Christian Communities?
How can we be Witnesses of the Risen Jesus in our daily lives?
LETTERS and FEEDBACKS
EASTER GIFTS AND BLESSINGS
Like my first Christmas, my first Easter here in this welcoming town of Faringdon has been great. I had two Simnel cakes, a very English traditional Easter cake which is also the Mothering Sunday cake. Thanks again to Mary Poole and to Michael and Jenny Barnes. I also had a traditional English Easter dinner with my neighbours across the street at the lovely garden of the Chell couple with roast British pork, spuds, vegetables and special gravy only produced in this abode.
Thank you also for the Easter Cards and the Easter Clergy gifts. Thank you for your Easter Greetings to my 40th Anniversary of Priesthood this month (28 April).
____
Dear Father Claro
Thank you very much for all your hard work over Easter and also to all the people that help you. Love your homilies and meeting all your friends from around the world on zoom. Hope you have a very happy Easter look forward to an end to this dreadful pandemic and all the suffering around the world.
With kind regards, MB
____
Dear Father Claro,
I hope you are well?
Thank you for some very interesting homilies recently- if you enjoyed James Rebanks' "English Pastoral", have you read "The Shepherd's Life", his first book?
I have two requests:
Firstly, I had arranged with Father Dominic for my son's baptism, but then the pandemic intervened. Now that they have plans to allow travel between the constituent parts of the UK (so my parents and sister can make it over from Northern Ireland), and vaccination has been rolled out (so my father-in-law who is classed as clinically extremely vulnerable, would be able to safely attend), I was wondering if we could arrange my son's baptism? I am sure you have the attached form in your records from Father Dominic's time, but thought it might be easiest just to send it again.
Secondly, I was telling my brother, who is an infectious diseases doctor, about Sukey's talk about her time in the Philippines that you helped arrange. He is very keen to spend some time abroad, and asked me if I could ask you whether you would mind if he contacted you, to discuss the possibility of him volunteering in the Philippines? Would you be happy to speak to him? If so, is this email the best way for him to contact you?
Many thanks for your ministry of the parish.
Yours sincerely,  JPC , Southmoor
____
I would like to convert to Catholicism after spending my life not being raised in any particular faith. I was hoping that you would be able to give me some guidance on how to go about this? I live in Faringdon, and whilst I understand that during lockdown that no one can attend church I would be grateful to speak to a priest to try and get the ball rolling.
I was born to a Roman Catholic mother and a Jewish father who decided not to raise us children in any particular faith; I believe in God and try to live the best Christian life that I can however since the first lockdown I have been seeking something more and feel that my faith has grown. This is the reason which I turn to you and wish to formally request to join the Catholic church. I know that conversion is not easy; that it will require prayer, regular church attendance, studying the bible as well as receiving baptism, holy communion and confirmation but I would be delighted to be given the opportunity to experience these things and to become part of the RC community in Faringdon.
I look forward to speaking with you and hope that you can help me on my journey.
Kindest Regards, MO of Faringdon
____
PRAYERS FOR THE DEAD
Santina Lisi of Gainfield, who died at the John Radcliffe Hospital on 31st March 2021, aged 96 years. The service will take place at St Mary's Church, Buckland on Friday 16th April 2021 at 10:00am followed by a burial in the Churchyard in the existing grave of her late husband, Mr Ferdinando Lisi.
Antonio Oribiana jr., brother of Maricel Paglinawan of Faringdon.
Thalakkottoe Mathew Mohan Francis died 11 April 2020 husband of Teresa Francis of Southmoor.
CAFOD
Dear Reginald
I hope that you and all your loved ones are well.  As we prepare for Easter, I would like to thank you on behalf of the CAFOD team for everything you have done to support CAFOD in parishes and schools during Lent.
Our Director, Christine Allen has recorded a video to thank you.  You can watch it at the following links and if you wish, share with your parish, school and friends who have supported CAFOD.
Video links here: Youtube (widescreen) https://youtu.be/PsjFSHE1DlA or
Vimeo (square): https://vimeo.com/529310819/c0db7c5cec.