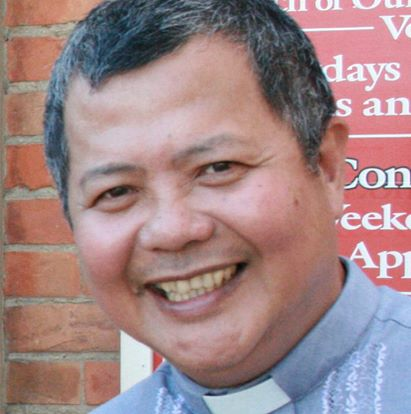 Message from Fr. Claro
Sunday 19th September
25th Ordinary Sunday
Today's readings invite us to refine and improve how we live and lead. The second reading and the Gospel offer guidance on interacting with one another, emphasizing humility, service and hospitality as characteristic actions of followers of Christ.
Today we are reminded to promote the common good, be humble, serve others and welcome people into the faith community. Religious leaders should heed Jesus' words and reflect on their implications. Unfortunately, some leaders have not consistently been models for humility, service or hospitality. In recent times, some have become preoccupied with policing access to the Eucharist, emphasizing particular kinds of unworthiness rather than helping us all to draw nearer to Christ through the sacrament and throughout life.
_____
Let us listen again to Franciscan Friar Greg Friedman's REFLECTIONS on the Readings.
_____
BIBLE ZOOM MEETING – 8pm Mondays
—-
CLERGY DAY
Last week, we had a clergy, 1st meeting since the lockdown. The speaker was Dr. Judith Champ, an expert in English Church history. I sent a copy to our parish email list. Here is some excerpts:
Isolation and loneliness have been brutally exposed during the last eighteen months as a scourge in our society. Since Covid19 caught fire across the world, it has brought unprecedented physical and mental suffering to individuals, families and communities, disrupting working and social lives, and upending the familiar rhythms and patterns of the practice of our faith. Paradoxically, it has also been an unexpected vehicle for exposing injustice, racism, violence and deprivation, and the full extent of our fractured relationship with the planet on which we depend for life. It has shone a light into hidden corners of human society, and called on our deepest reserves of self-awareness, to explore its meaning, as Pope Francis reflected in St Peter's Square, on a cold, wet evening in March 2020:
The storm exposes our vulnerability and uncovers those false and superfluous certainties around which we have constructed our daily schedules, our projects, our habits and priorities. It shows us how we have allowed to become dull and feeble the very things that nourish, sustain and strengthen our lives and our communities.
Surely, the purpose of our parishes in the future is to make Christ present within a society crying out for his healing touch? What kind of role will the Church take, in helping build and sustain local communities, of which our parishes form a part, in which people grow and flourish, and in which our freedoms are tempered by our responsibilities?
Many people have come to share the Pope's realisation that the pandemic has plunged the world into a profound moment in history, which offers a unique opportunity to explore the nature of change needed in the world, and how we, as citizens responsible for its future, might be agents of that change.
It has also called on us, and particularly on you as priests, in a unique way, to 'stay put', as Rowan Williams has reflected:
To stay with the people God has given us to love, to nurture and be nurtured by, to challenge and be challenged by… The truth is that we betray love ultimately not by feelings of impatience or hostility, but by the desire to be somewhere else, with people and circumstances other than the ones actually in front of our nose.
Staying put has been a challenge faced, above all, by priests, bearing the brunt of our efforts to sustain Catholic life and faith, to nurture and support people in physical and mental agony, and to find meaning and healing. You have been called and chosen, not to 'be somewhere else', but to prepare to build the future amidst the 'people and circumstances actually in front of our nose'. The building begins with reflection on our experience, and examination of what we have learned about ourselves. The paths we choose will be marked by our readiness to learn from this experience.
Dr Judith Champ, Church History Lecturer and Academic Tutor at Oscott College
What are our learning experiences as a parish here in Faringdon?
_____
The annual Mass Count
Over the next four weekends, starting this Sunday 19th September, parishes across all the dioceses of England and Wales will be undertaking their annual Mass count, that is, the numbers of people in attendance at Sunday Masses.
_____
From the Diocesan Survey
Have you looked at our Diocesan Survey yet? You can view or download the document here: https://www.portsmouthdiocese.org.uk/survey.
_____
PRAYERS FOR THE SICK: Tony Fecher
_____
PRAYERS FOR THE DEAD
+Dorothy Kathleen Kirby (mother of Mike and Margaret Sheridan-Wallis ), 20th anniversary of her passing on September 19th.
+Barbara, wife of John Bailey, sadly passed away on Monday 6th of September. Requiem Mass will be at our church Blessed Hugh Faringdon. Funeral date to be announced later.
_____
Living Laudato Si 
If you would like to join our monthly network meeting our next meeting will be 6-7pm on Thursday 7th October when the new Caritas team member will be our guest speaker Phil Paulo contact mthompon@cafod.co.uk
_____
EVENTS
CHILDREN'S LITURGY. The term commences Sunday 12th September to Sunday 17th October, inclusive. There will be no session on Sunday 24th and 31st October in line with school half term break.
Cpc (Community Prayer Crusade) Oxfordshire Mediatrixians 1st Saturday 2nd October
4pm EXPOSITION of the BLESSED SACRAMENT, ROSARY and DIVINE MERCY PRAYERS
5pm REPOSITION of the BLESSED SACRAMENT
6pm SATURDAY VIGIL MASS
For more information contact Menchie of Watchfield 07500 044179
PPC Meeting on 7 October to finalise reports for the AGM
I ask different committees to submit their reports to Audrey Courtney for compilation and collation.
PARISH AGM Wednesday 13th October
PARISH SHARED LUNCH Sunday 21st November on the Feast of Christ the King.