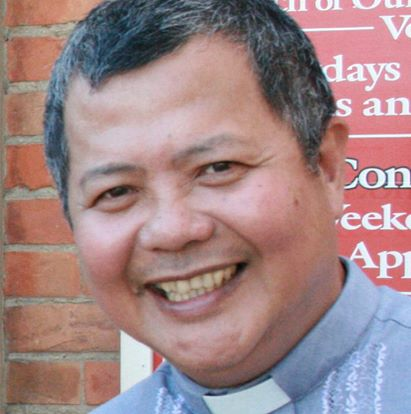 A message from Fr. Claro
16th October
I thank Audrey Curnock for facilitating the PPC Zoom meeting last Thursday. It was attended by Neill Taylor, Tony Fecher, Mary Hughes, Kathleen Thomas, Clare Cottingham and Andrew Chell. Audrey has been kind to publish the minutes of the meeting for the parishioners to read and to make comments on them. The formulation of the Parish Mission Statement was developed and approved last 3rd of February. I have a little problem of hearing during Zoom meetings. I need better audio technologies so I can join and enjoy such meetings.
Last Sunday, we talked about LIVING THE VALUES the Kingdom of God in our hearts, with others in our wee parish and in the greater world around us. We still live in this world. We face "the Material World" and all it contains. Pope Francis has just written a novel Encyclical entitled FRATELLI TUTTI, studied, appreciated and treasured not only by Catholics but also all of humanity. Professor Anna Rowlands of Durham University aptly described the long letter as a "devastating challenge to our ecological, political, economic and social life." It is above all "a proclamation of an ineradicable, joyful truth presented here as a wellspring for a fatigued world. It urges the way of dialogue as the means by which humanity could negotiate to heal its disagreements and divisions. (The Tablet, 10 October 2020)
The Gospel today has attracted conflicting interpretations throughout Christian history, especially when it has been evoked for guidance in church-state relations. 'Rendering to Caesar' has been taken to mean that Christians simply do what the State require, and that followers of Jesus should keep religion and politics strictly separate. If we are to understand it properly, we need to bear in mind that the heart of Jesus' preaching was that the Kingdom of God is at hand. The Kingdom is not a place (not even a heavenly one), but a call to submit every aspect of our lives to God;s kingly rule, Until God's rule is fully realised, we live in a political world whose values often fall short of the values of the Kingdom, and can even be directly opposed to them. "Rendering to God the things that are God's' acknowledges that god has an interest in the human world, including the world of politics. To be a disciple ofr Jesus means that support for all other values including for apolitical party, must always be with an eye of the values of Jesus. (Reality, Irish Redemptorist Magazine, October 2020)
I invite parishioners to read the Pope's Encyclical and even join Reading and Study groups such as the Las Casas Institute and Oxford University Catholic Chaplaincy. Google the website.