Updated 2nd July – Please note change of time of drive-in Holy Communion
Opening Church Buildings for Private Prayer
Following the Government Guidelines and the Diocesan advice, we have been planning how best to open the church buildings for Private Prayer, safely and in-line with this advice.
Zoom Masses will continue as normal as we are unable to meet in larger numbers, and are only able to open for individual worship.
Our PPC has drawn up the following plans for our private prayers:
We shall open the Church Courtyard and Church Hall, on Wednesdays from 6pm – 7pm and Saturdays 10am – 12pm,.  These will both be areas of private prayer. The Blessed Sacrament will be present in the Church Hall, where there will be an altar and chairs will be arranged at a 2m distance.  Please do not move the chairs
A Hand Sanitizer will be available on entry into the Courtyard. We shall operate a one-way entry/exit system, with a Steward present.
Entrance for the Hall will be via the usual entrance, exiting will be via the Fire Escape door. (See diagram below).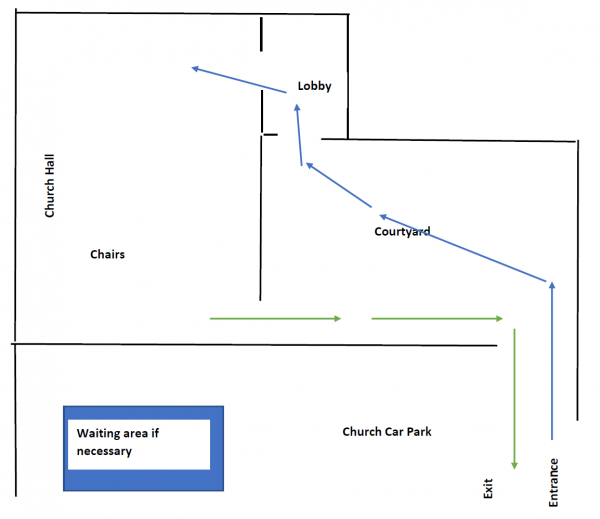 As you leave the Hall or Courtyard, please use a wipe and/or spray to wipe any areas you have touched. These will be made available to use. Please put the wipe in your pocket or bag and take the wipe home to discard it.  (This will make it easier for the Steward).  Again, please use Hand Sanitizer as you exit the courtyard.
We may need to ask you to wait a moment in the Church Car Park if someone is exiting the Courtyard, to allow them to pass at a safe distance. Similarly, if we are at our maximum capacity, we may need you to wait in the Church Car Park for a short time.
You may need to bring a prayer book/bible as we cannot provide resources. Similarly, the Toilets and Kitchen will be unavailable.
We will review this as time goes on. We would welcome volunteers to help Steward – the suggestion is you should be in reasonably good health and under 60.
Drive-in Holy Communion
Fr Dominic will be distributing Holy Communion after the  Zoom Mass on Sunday  in Faringdon Community College car park at 10.15 – 10.45am.  Please drive on the left side into the school towards the leisure centre then turn around the island as if to go back out and approach Fr Dominic in the car park.
Please roll down your window a little reserving most of it as a screen and put your palm out to receive the Host.   Once you have received the host you can drive off.